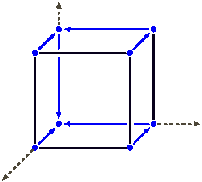 lrs home page
lrslib is a self-contained ANSI C implementation of the reverse search algorithm for vertex enumeration/convex hull problems and comes with a choice of three arithmetic packages. Input file formats are compatible with Komei Fukuda's cdd package. All computations are done exactly in either multiple precision or fixed integer arithmetic. Output is not stored in memory, so even problems with very large output sizes can sometimes be solved. The program is intended for Unix/Linux platforms, but will compile using gcc/cygwin on Windows.

New: Release of v7.0: hybrid arithmetic versions of lrs/redund/mplrs offer speedups of 2-5 times for combinatorial polytopes.

Documentation: User's Guide lrslib Guide Theoretical Description Computational Results Applications
mplrs/plrs Computational Results (new) mplrs:Theoretical Description(new) slides
Drivers:

lrs:

Converts an H-representation (half-space) of a polyhedron to a V-representation (vertex/ray) or vice versa. Estimates the number of vertices/rays or facets of a polyhedron. Computes the volume of a polytope given by a list of vertices. Solves LP problems over a polyhedron given by an H-representation. Compute the Voronoi vertices and rays for an input set of data points. quickstart

mplrs: C wrapper for lrs that allows for parallelization on clusters of machines and uses the MPI library quickstart


redund:

Removes redundant inequalities from an H-representation. Finds the extremal vertices in a V-representation


lrsnash, 2nash:

Computes all Nash equlibria of a two person non-cooperative game. 2nash is a 2-processor parallel version


fourier

:

Temporarily withdrawn due to reported bugs.


Interface:
Matlab

:

GeoCalcLib, an interface to lrs and redund developed by Rainer Schaich

Libraries:
lrslib

:

A callable library of functions implementing the above drivers except lrsnash
lrsnash: A callable library of routines for computing Nash equilibria (used with lrslib)

lrsmp: A multiple precision arithmetic package for lrslib
lrslong: A fixed precision integer package for lrslib

lrsgmp

: A multiple precision arithmetic package for lrslib based on GNU MP.

Demos:
vedemo.c

Compute vertices of a set of generated hypercubes
chdemo.c Compute facets of a set of generated cyclic polytopes
lpdemo.c Solve a set of linear programs for generated hypercubes
Links to related software

The program can be distributed freely under the GNU GENERAL PUBLIC LICENSE. Please read the file COPYING carefully before using.
---

David Avis avis@cs.mcgill.ca 2018.10.30 School of Informatics, Kyoto University and School of Computer Science, McGill University
---