"The body says what words cannot" - Martha Graham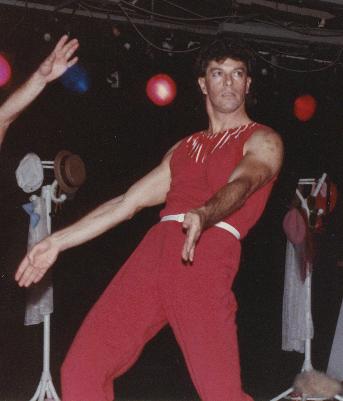 That's me dancing with Les Flexibles at Club Soda during Les Soirees d'Improvisation en Dance. I started taking modern dance and ballet-jazz classes in January 1976. I studied modern dance mainly with Diane Carriere and Linda Rabin at Nouvelle Aire. I also did some contact improvisation with Dena Davida and studied Limon technique with Eduardo de Soto at Les Ballets Russes. I studied ballet-jazz for two years under Louise Lapierre at the Ecole de Danse Louise Lapierre. Then I transferred to Les Ballets Jazz de Montreal where I studied for ten years mainly with the resident teachers Andre Lucas and Christian Hachez, although I took an uncountable number of classes in strange jazz from the New York teacher Herb Wilson who spent half his time visiting Montreal. While at Les Ballets Jazz I also studied tap dancing for four years under John Stanzel. During the spring of 1986 while visiting New York University I studied jazz at the Alvin Ailey American Dance Center in New York and Simonson modern dance technique under Lynn Simonson at the Dance Space on Broadway.
In the late 70's and early 80's my dance activities were very intense. I danced 15-20 hours per week counting the classes and rehearsals for shows and tours that I participated in with several dance companies. For several years I danced with the modern dance company Amarelle. For one year I danced Broadway style jazz with Pierre Hardy's Dancers directed by Pierre Hardy. For one year I danced Renaissance dance with the company I Galliardi directed by Rose-Mary Toombs. Finally, I performed for two seasons in Les Soirees d'Improvisation en Dance at Club Soda. These were round robin competitions held every Tuesday evening between two of five teams. I danced one season with Les Flexibles and one season with Les Sautes, the winning champions.
In more recent years I have been spending fewer hours on dancing and more hours on drumming. However, once you are hooked on dancing it is impossible to give it up completely. Besides, who wants to give up an activity that is so good for the health? Therefore in the last six years I have taken up Ballroom dancing such as Waltz, Foxtrot, Rock & Roll, Swing, Merengue, Salsa, Cumbia, Bachata, Cha-Cha-Cha, Samba and Rumba. In October of 1996 I took a Tango course at Graffiti Tango and that was quite a challenge. In January 1997 I switched schools to La Tangueria at 5390 St. Laurent. In the fall of 1997 Carol Horowitz and Bobby Thompson opened up their own new studio: Studio Tango Montreal . Wednesday evenings it is a very relaxed place to practice new steps with your friends. In 1997 I also added Swing (East Coast as well as West Coast) to my dance activities. Other places for dancing tango in Montreal are: Tango Libre, Academie de Tango Argentin and Tango Nuestro. One of the latest places to open is Dancing Mocha Jo at 5175A Park Avenue.
Dance Companies in which I danced:

Amarelle (Modern Dance)
Pierre Hardy's Dancers (Broadway Jazz)
I Galliardi (Renaissance Dance)
Les Sautes (Improvisation Competitions at Club Soda)
Les Flexibles (Improvisation Competitions at Club Soda)

My Favourite Dance Companies: More Dance Links: